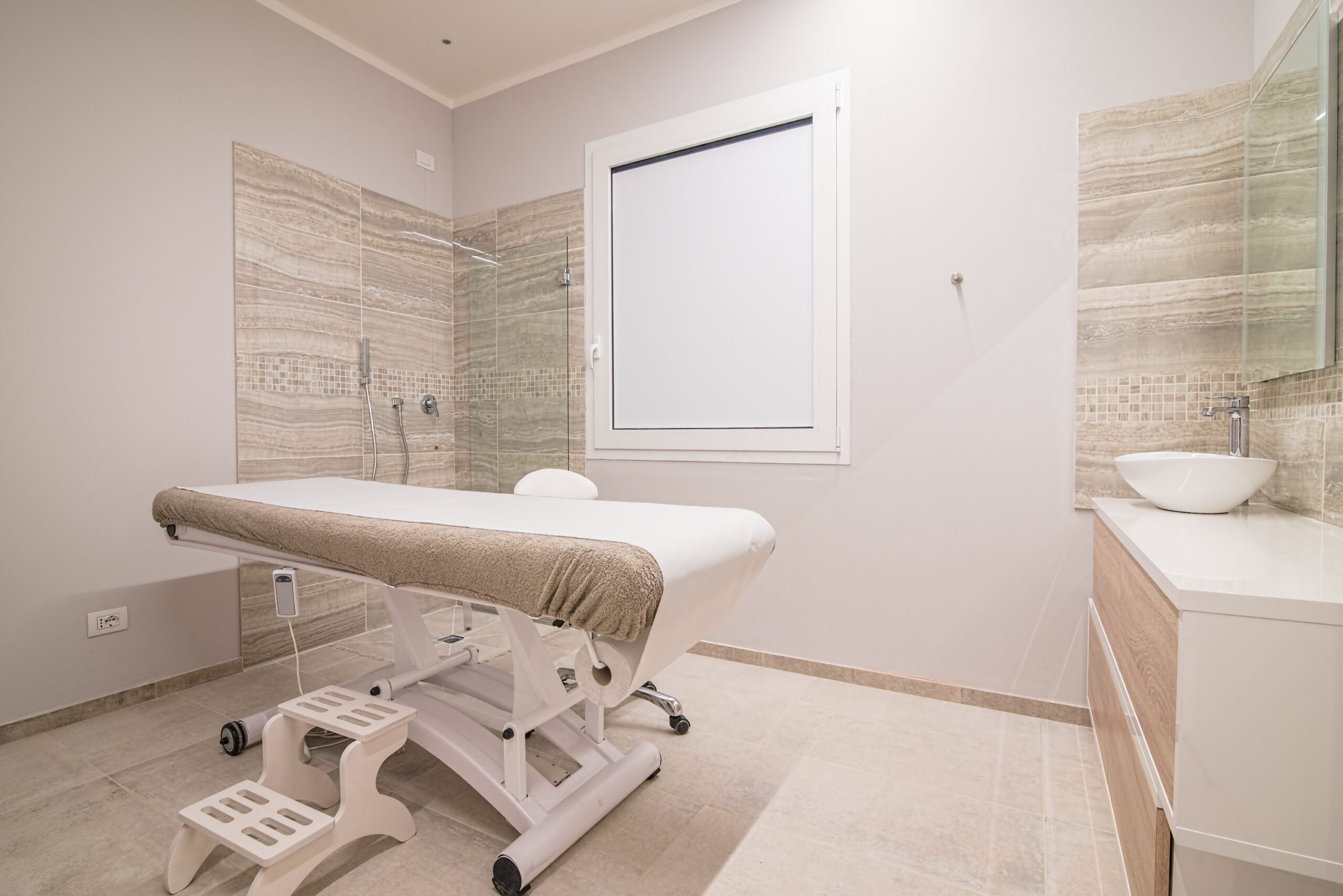 Wellness
Relaxation and wellness
to cure the harmony amongst mind, body and spirit, a precious good never to be underestimated, our Wellness Centre offers a wide selection of beauty treatments also intended for your psycho-physical wellbeing. The mud-bath balneotherapy treatment Hotel Vena d'Oro offers you can be easily complemented or supplemented by these treatments. Enjoy a moment of deserved relaxation in safe, experienced hands.
Sauna e Turkish bath
our new wellness centre is ideal to maximize the benefits of a healthy, natural relaxation. Within the area reserved for the indoor swimming pool, you will also find a sauna, a Turkish bath and a Kneipp path. All this is further complemented by a gorgeous cold-mist shower to complete your relaxation and recover your lost fitness.
Mud-bath-therapy
* Cycle of treatment: 12 days (daily treatments)
* Mud therapy: lasts in 20 minutes – temperature 39-40°C
* (Thermal mud is placed over the body's joints as shown on a special form filled out by the doctor of the thermal hotel during the medical examination which is compulsory for carrying out the thermal cure.)
* Bath therapy: lasts in 12-15 minutes. Water temperature: 38-39°C
Bath therapy
* Bath therapy involves immersing the body in a bath full of hot spa water, which is filled before the patient enters.
* The salty-bromine-iodic hyper-thermal water (typical of the Euganean basin) used for the bath therapy, is at a temperature of 36-38°C, the bath therapy session lasts about 15 minutes, for a total cycle of 12 daily baths. The bath therapy nearly always follows and completes the mud therapy session.
* The spa bath has effects tied to the mechanical influence and the hydrostatic pressure exercised by the water itself
* (blood return cycle, muscle relaxation, stimulation of the skin's tactile and pressure receptors) and other effects which depend on the chemical-physical features of the water.
* The temperature of the spa water from the Euganean Basin has an effect above all on the skin and muscular vasodilatation, favouring the release of stretched and smooth muscles (decreasing artery pressure) and inducing an analgesic action.
* To this, specific hormone, biochemical and neurovegetative stimuli must be added, which depend on the chemical composition of the mineral water, and which complete and amplify the full recovery of
Physiotherapy
Physiotherapy is the development, maintenance and recovery of movement and function throughout life, especially in those circumstances in which they are compromised by trauma, disease, environmental factors and age.
Physiotherapy is concerned with identifying and maximizing quality of life and movement potential within the spheres of promotion, prevention, treatment / intervention, facilitation and rehabilitation.
The physiotherapist uses the medical history, physical examination, and when necessary the results of laboratory tests (radiography, ultrasound, electromyography, etc..) to have a correct diagnosis and establish a good treatment plan.
Hydrokinesi therapy
* If it can be said that in a spa centre, practically all the physical-kinesi-therapies can be applied, it is right to specify that hydro-kinesi therapy is definitely the most typical and widely used, also thanks the abundant water resources and the number of facilities in which this method is carried out: the swimming pools.
* Hydro -kinesi therapy uses all the chemical and physical properties of the water for therapeutic reasons, and is applied in various rehabilitation methods: orthopaedics, traumatology, rheumatology, neurology.
* Immersion in a spa pool, thanks to the specific chemical composition of the water and its temperature, grants a gentle and gradual recovery of muscular exercise. With a great deal of benefits and with little effort, the first recovery phases can be carried out, before passing onto other activities that can be prescribed and applied after the spa holiday is over.
* Deambulation re-education is also greatly eased by hydro-kinesi therapy: the pressure of the spa water is uniformly distributed over all the submerged parts of the body, keeping it in the upright position which, together with the sensation of weightlessness given by the floating push of the water, means that deambulation re-education can be anticipated (if the head and neck are out of the water, about 90% of body weight is lightened).
* Hydro-kinesi therapy is very useful in removing complaints such as: muscular rigidity, pain, cramp caused by effort, all of which are factors that can cause serious functional limitations.
* Hydro-kinesi-therapy gives relief from pain and muscular spasm, drains the swollen and bruised areas and favours movement re-education.
* In the rehabilitation programme, a large number of joints and muscles can be involved, gradually increasing the exercises in length and intensity, using floating first of all for sustaining the movements, then for supporting them and finally as resistance, until maximum muscular reaction is obtained.
* As this article clearly shows, this is all of enormous importance in recovering, promoting and conserving the functionality of the locomotor apparatus, besides reducing recovery times for joints that are over tired or traumatised.
Water gymnastic (acqua-gym)
Gymnastics in water is a complex set of exercises that joined together to bring results very satisfactory, both in terms of firming in muscle tone in its most critical points of our body.
Lymph-draining massage
Lymph drainage is a particular type of massage practiced in the areas of the body with an excessive reduction of the lymphatic circulation. A sluggish lymph itself can cause serious disruption to the functions of the lymph:
* Defence
* Nutrition
* Purification.
In order not to fail any of these above functions, it is necessary to ensure a constant rate of lymphatic flow and remove any puddles.
It is shown, for example, to treat cellulite problems.
Shiatsu
Shiatsu is a manual technique based mainly on the flow pressure with thumbs, fingers, palms, elbows, knees or feet. Effective pressure is characterized by five factors that must always be present:
1. use the right tool to work
2. proper position operator
3. correct identification of the area on which to operate
4. operator attention
5. three phases pressure: input, stasis, exit
This allows, by contacting your energy level deeper and therefore all aspects of its reality, to awaken in receiving its power of healing. In traditional Chinese medicine (TCM) psyche and soma have never been divided and this is one of the fundamental difference with western medicine.
Reflexology of the feet
The reflexology is a branch of traditional Chinese medicine-based massage and then massage the soles of the feet.
Focusing therefore on the zoned massage technique exploits the wealth of these nerves in the feet to cure disease or relieve pain by tapping into strategic areas: these are reflex points throughout the body, through which stimulus act on organs, internal equipment, glands and nervous system to purify and to rebalance the body's vital energy, releasing blocked energy channels.
Body treatments;
We have a wide range of body treatments such as sports, stress, cellulite, toning-Connective, relaxing, warm essential oils. Contact us for more details